USS Bon Homme Richard
CV/CVA-31
Shipmates
Memorial
Page
THE SHIPMATES LISTED HERE HAVE DEPARTED THIS WORLD
FOR DUTY IN A FAR BETTER ONE.
WE WISH THEM A FAIR WIND AND A FOLLOWING SEA.

PLEASE REMEMBER THEM AND THEIR FAMILIES IN YOUR PRAYERS.
Service Written And Performed By Jed Levine
BHR's Last PAO

We are blessed with a "LIVING MEMORIAL, LHD 6".
As our ranks thin with age and mortality... until there are none, we rely on our LHD 6 shipmates to be the keepers of the flame.
As we pray for our departed to rest in peace and we look forward to when all of ship's company will stand muster together again.
We also pray for their spirit and courage to be about the decks of LHD 6 and with the men and women who will face their own World War Two's, Korea's and Viet-Nam's well beyond our lifetime...
Amen


USS Bon Homme Richard Crewmembers Association
Memorial Ceremony

Las Vegas Reunion 2000

Written And Read By

Pastor Steve King
Former PH-3 OP Division 1969-70


It was Twenty Nine years ago when our ship made her final journey to Bremerton, Washington.

I can remember as we passed through the Puget Sound looking at the mountains, the beautiful trees, still safe and enjoying the comfort of our ship.

I also remember in the late afternoon finally being guided by the harbor pilot into the drydock.

It was very overcast and cold, and the lights were now being turned on as the sun was setting.

The surroundings were very unfamiliar and uninviting.

We stood on the flight deck wondering what to do, and asking where should we go.

We had received orders to immediately vacate the ship.

No one was to spend the night on board.

Someone came and advised us to go to this very unattractive green floating barracks just across the dock.

We immediately rejected that idea.

WE WERE NOT READY TO LEAVE YET!!!!!!

We sat up in the photo lab and played cards until late that night, then we turned the lights off.

We practically froze to death. No heaters, just some blankets.

It was over.....

It was time to move.....

The next morning some friends came up the brow into the photo lab and told us, "We have a new place to live and you won't believe it."

We excitedly jumped in a car and drove around the sound to a beautiful little house that overlooked the bay.....

The scenery was spectacular.

The surroundings were incredible, peaceful.....

This was home.

I wonder if we can compare this to our own lives and our shipmates who have passed on.

For these men, who's names I will read, who sailed with us and fought the battle along side us, it's over as far as we can see.

I wonder if we look at death like we saw those green barracks unattractive, unfamiliar.

But God promises much more than that for those who have placed their trust in Him.....

Jesus said I go to prepare a place for you and if I go and prepare a place for you I will come again and receive you to Myself, that where I am, there you may be also....

Although our shipmates were taken from us far sooner than we wanted, their memory and their lives live on in our hearts.

I will now read their names as we honor their memory, and their service to our country.



A
B
C
D
E
F
G
H
I
J
K
L
M
N
O
P
Q
R
S
T
U
V
W
X
Y
Z
A
Abbott, Eugene
E-A Div
1944-45
Lafayette
CO
Achey, Alvin
4th Div.
1950-53
Liberal
MO
Acker, Alexander
Commissary
1944-46
Acker, Edward O.
(AB2)
V-1
1952-53
Adams, Bill & Grace
Air Intell
1964
Adams, Clarence"Joe"
(MMC)
E-A Div
1944-46
Adams, Don E.
VF-74
1952
Ahlers, Paul
PH1
OP Division
1967-1968
Silver Spring
MD
Ainsworth, Lloyd
(AOM1)
V-4-O
1944-46
Sun City
AZ
Agvent, Frank
SM3
K2 Division
1944-46
Stratford
CT
Aker, Edward
V-1 Division
1952-1953
Alba, Al
(DKC)
S-4 Div.
1957-61
Alderton, Dickson
CAPT
VA-192, VF-193
55, '59-60
Allen, Gleason
Lt. JG.
CIC Div.
1944-46
Wilmington
NC
Ambercrombie, Chas.
V-1 Div.
1956-66
Ozark
AR
Ambercrombie, Jerry
1968-71
Amer, Richard
RD2
OI Division
1962-1965
Anderson, Alan S.
FN
Anderson, Earl
RD2
OI Division
1956-59
Lakeside
CA
Arrighi, Norm
CDR
Supply Officer
1958-60
Arthur, Jerry N.
S-2 Div.
1958-62
Mechanicsburg
OH
Arthur, Tom
S-2 Div.
1961-65
Atlantic Beach
FL
Atchison, Karal
1944
Atkins, Jason
E-B Div.
1944-46
Vero Beach
FL
Avery, Arthur
VA-923
1951-52
Gillette
WY
Avrett, Roy
E-B Div.
1964-67
B
Badgley,Walter
G-5 Div.
1961-63
Bailey,Ray
PO3
BT (N) 91
1944
Owingsville
KY
Baird, John C.
V-4
1944-45
Whitefish
MT
Baker,Wayne T.
ADR1
VA 54
1957-58
San Jose
CA
Baldwin,Donald
V1 Div
1950-52
Orange Park
FL
Ballentine, James
VA-923
1951
Baranowski, Frank
E-E Div.
1966-68
Chelsea
MA
Barfield, Marion F
CDR
Navigator
1951-53
Tucker
GA
Barnes, Earl
AE-2
V-6 Div.
1955-56
Enterprise
AL
Barnett, James "Diz"
O I Div.
1951-52
Lawton
OK
Barnett, Oscar
V-1 Div.
1944-46
Barnett, William
1944-45
Barr, Bruce
RM3
1958-59
Grauts
MN
Bass, David
1963-65
City of the Colony
TX
Batt, David
1944
Bauman, Hugh
CAPT
VC-33
1952
Bautista. Leoncio A.
TN
S-5 Division
July 10, 1968
Bayne, Phillip J.
Captain
1964
Bean, Glen
VT(N)91
1945
Beaumont, Bob
VF(N)91
1945
Mercer Island
WA
Beebe, Marshall
CAPT
1960-61
Behringer, William
CDR
VF-141
1957
Bell, Preston
LCDR
1944-45
Bender, Ivan
Av. Ord.
1951-53
Lodi
CA
Benson, Bradley J.
1955-60
Shelton
WA
Bently, Otho Jr.
AK1
VA-22 Division
1969
Berthelot, Al
BT3
EB Division
1964-66
Gonzales
LA
Bertolatus, Charles
(PFC)
Marine
1944-45
Pt. Pleasant Bch.
NJ
Best, Lewis
(AMS2)
SQ-192
1958-59
Sullivan
OH
Bettenhausen, Ralph
4th Div.
1944-45
Sunrise Beach
MO
Biesold, Frank R. SR
SN
1st Div.
1955-57
Seattle
WA
Biletchi, George
E-B Div.
1944-46
Greensboro
NC
Blackburn, Lynn
OF
1966-68
Salem
OR
Blake, Harry
(CDR)
1968-69
Penscola
FL
Blake, Joe
1944-46
New Port Richy
FL
Blanchard, Charles
1957-60
Shawnee
OK
Bland, Joe
W- Div
1961-63
Nat'l City
CA
Bletso, Robert
(MM1)
E-M Div.
1944-46
No. Jackson
OH
Bliss, Donald S.
1944
Albquerque
NM
Blomberg, Carl Ellis
SC2
1944-1946
Blum, Arthur
ART2
VT (N) 91
1945
Terryville
CT
Bodeman, Don
(LCDR)
VT(N) 91
1945
Denver
CO
Bommer, Galen
(SN)
K-2 Div.
1944-46
Bose, Bert
VA-75
1952
Boshell, Tom
MR3
EA Div.
1966-70
Wyandotte
MI
Bowin, Charles F.
P.O.1
S Div.
1951-53
Milton
FL
Bottomley, Harold S.
CAPT
C.O.
1960
Boudreau, Walter J.
CWO4
1944-1946
Boyle, Tom
(LT)
C&R Div's.
1945
Boyne, Phillip J.
Captain
Dental
1964
Loma Linda
CA
Bradley, Emmitt
RD3
OI Division
1961-1967
Bradley, Hugh
1952-53
Bransdorfer, Arnold
N Division
1944-45
Saint Louis
MI
Brenamen,Paul
F-Div.
1944-46
Brendlinger, Larry
S-1 Div
1955-57
unknown
Brewster, George
1945
Brophy, Ed
VT(N)91
1945
Brown, Edward D.
LTJG
VF-191
July 29, 1965
Charlotte
NC
Brown, Donald
COMCARDIV 3
1958
Brown, Gaylord
CAPT.
CAG-7
1952
Penscola
FL
Brown, Kenneth
ABH3
V-1 Div.
1960-63
Lake Charles
LA
Brown, Stanford
AGEM
V-2 Div
1944-45
Sun Lakes
AZ
Broyles,Warren
V-3-FR Div.
1944-45
Bruton, John
1959-60
Wilmore
KS
Buchans,James
W-Div.
1958-60
Budensiek, Clayton
(AN)
V-1 Div
1951-53
Pine Island
MN
Buehler, Dean
(LI-2)
X-Div
1950-53
Yorba Linda
CA
Burch, Cecil
1944-47
Concord
MA
Burmiester,Edward V.
(SK2)
S- Div
1944-46
Staten Island
NY
Burnett, Joe
OS Div.
1955-59
Burns, Robert"Bob"
E-B Div.
1944-45
Bus, Dan
N Div.
1951-52
Butler, Richard J.
RM3
CR Div.
Aurora
CO
Bzdyra, Alexander
(WT2)
E-B Div.
1944-46
New Haven
CT
C
Cabble, James
3rd Div.
1944
Caddy, William
E-M Div.
1944-46
Cadle, Glen
X-Div.
1950-53
Callahan, Roy A.
Medic
1944-46
Denver
CO.
Callahan,Clarence
K-Div
1944-46
Cameron, Kenneth R
CDR
VA-76
1967
Viet Nam
Campbell, J.B.
1951
Dunlap
TN
Canaan, Gerald
CAPT
VA 923
1951
Williamsburg
VA
Cannon, Dwight
1951-52
Carmichael, Robert J.
1951
Colchester
VT
Carnes, James
LCDR
WM Div
1967-69
Cave Springs
GA
Carter, Bob
5th Div.
1956-57
Carter, Earl
VF-72
1952
Casey, Clifford
R-2 Div.
1944-45
Cavey Sr., Harrison
1944-46
Westminster
MD
Chapman, Bill
YN1
X-Div.
1958-61
Charvet. Paul R.
CDR
VA-215
March 21, 1967
Grandview
WA
Chatfield, Richard
CAPT
Cherry, Charles A.
AB2
V-7
1951
Carlsbad
NM
Chesmore, Kenneth
1958-59
Chester, Loren
1951-52
Chimbole, Frank
ARM2
VT(N)91
1944-46
Norwalk
CT
Christenson, Marshall
(ETR2)
O-E Div
1966-69
Peoria
AZ
Cimino, Angelo R.
1967-1970
Clark, Carl
VF-72
1952
Clark, Mike
CAPT
Exec. Officer
1963-64
Cardova
TN
Clausen, Robert
1951-53
Farmington
NM
Cloonan, William J.
1950-51
Canyon Lk.
CA
Coleman, Irving
4th Div.
1944-46
Collins, Dick
1963-65
Collier, Leylan G.
1951-53
Colvin, Donald
E-E Div.
1956-59
Conius, Charles
AO3
VF-74
1952
Drexel Hills
PA
Conroy, Thomas
CDR
OPS Officer
1950-53
Carmel
CA
Cook, James Monroe
MMC
1944-1946
Cook. Orville M.
LT
VA-923
Coolen, John
AMM1
1944-45
Coomer, Norman
Air Div.
1944-46
Chalfont
PA
Copeland, Daniel
S-2 Div.
1944-46
Corases, Frank
VT(N)91
1945
Cordell, Lexie
SK2
S1 Div
1944-46
Clay City
IN
Corr, Eugene
H-Div.
1952
Cravens, Jerry
3rd Div.
1945
Crocker, Clayton
1946
Crosby, Frederick P.
LCDR
VFP-63
June 1, 1965
tr>
Crouse, Larry
PH2
OP Div
1967-70
Muncie
IN
Crowder, Jesse
CWO
S-Div
1958-60
Reno
NV
Crum, Fred N.
V2-Div
1944-46
St. Francis
KS
Cullen, Douglas M.
FC-2
F Div.
1944-46
Olympia
WA
Cullen, Tom
Flight Deck
1968
Altoona
IA
Cummings, Ed
VC-33
1952
Cummings, George
V-3-FR Div.
1945
Cunius, Charles
AD3
VF-74
1950-53
Drexel Hill
PA
Cunningham, Laurence
1944
Curp, Robert
O-I Div.
1962-67
Cutler, Joseph A.
Korea
New York City
NY
Czapla, John
AMMC
V-2 Div.
1944-46
King of Prussia
PA.
D
Daluisio, Thomas J.
1944
Daniels, Marion
1950-52
Davidson, Edward
EM3
E-E Div.
1969-71
Davis, Bill
E-R Div.
1969-71
San Diego
CA
Davis, David L.
V-6 Div.
1951-53
unknown
Dawson, Frank
H-Div.
1951-53
Dawson, John
1951-53
Decker, Edwin H.
1944-46
Delphenich, Robert
ET2
OR Div.
1951
Chula Vista
CA
Dermyer, Vincent F.
AB3
VAH-4
1957-59
Toledo
OH
Derthick, John
VF(N)52
1945
Alpena
MI
Despain, Orin
V-3-FR Div.
1944-45
DeWachter, George
S1
K2 Division
1944-1946
DeWitt, Richard
E-E Div.
1952-53
Mira Loma
CA
Dickson, Herbert
LTjg
VT(N)91
1945
Glendon
PA.
Dillingham,Ethan W.
unknown
Dodge, Robert E.
unknown
Dolan, John R.
Comm.
1951-52
Dollar, William
1950-53
Dooley, Jake
VF-73
1952
Door, Bill
VT(N) 91
1945
Beloit
WI
Doss, Fred
unknown
Wicks
AZ
Doss, Phillip
AETM1
VT(N)91
1944-46
Vernon
CT
Doyle, James
Commissary
1950-53
Dufel, Fred
V-3-FR Div.
1944-45
Dunmire, Arthur
1945
Dunbar, Dale H.
PHC
OP Division
1966-67
La Mesa
CA
Dunn, Jack F.
1951-53
Dyer, Joseph J.
ER Div.
1951-52
E
Earington, Atlee R.
1944-46
unknown
Eastburn, Sam G.
K Div.
1944-45
Mobile
AL
Eaton, Howard
V-1-D Div.
1944-46
West Palm Beach
FL.
Eaton, Ron
VF-74
1952
Ecken, Harry
E-A Div
1944-46
Edele, Bud
VA-923
1951
Edgbert, Charles Wayne
Edwards, James
E-E Div.
1944-46
Danville
IL.
Edwardsen, Fritz
E-E Div.
1944-46
Eggers, Bill
1944-47
Eisert, William
V-3-FR Div.
1944-45
Denver
CO.
Elchuck, Matt
(DC2)
E-R Div.
1950-53
Ellis, William B.
R-1 Div.
1944-46
Ellsworth, Arnot
V-1 Div.
1951
Endorf, Ray
Supply Officer
1950-53
Endres, Roger
V-4-O Div.
1944-46
England, Donald
(FCS3)
1951-52
Enke, George
(AEMJ3)
V-3-A Div.
1944-45
Eskridge, Jeremy J.
VF-196
1959-61
Tupelo
MS
Eubanks, Andy
1951
Evans, Albert L.
EE Div.
1944-46
Baltimore
MD
Evans, Dan
K-3 Div.
1944-45
N. Tonawanda
NY
Evans, H.K.
VA-75
1952
Evans. Robert
(ABE3)
V-2 Div.
1964-67
Las Vegas
NV
F
Faltisco, Joseph
1944-45
Fair, Paul
VA-923
1951
St. Louis
MO
Fair,John
1952
Farmer, Alvin
1950-53
Council Bluffs
IA
Farmer, Edward B.
W W 11
Matteson
IL.
Fast, Bill
unknown
Ferguson, Roger
4th Div.
1944-46
Ferrell, Cary D.
H- Div.
1955-57
Pleasanton
CA
Ferris, Mel
1944-45
Fields, Melvin
Unknown
Fond Au Lac
WI
Filby, James
E-R Div.
1944-46
Gnadenhotten
OH
Ford, William
AG3
OA Div.
1951-52
Ethelsville
AL
Forde, Jerry
IC3
E-E Div.
1958-61
Kimballton,
IA
Foss, Gerald
1968-71
Columbia Hts.
MN
Foster, John
VA-874
1951
Nokomis
FL
Fowler, Samuel
S- Div.
1944-46
Fox, Jay
E-B Div.
1961-53
Fox, Robert
1952
Fraizer, Buck
SN
G-3 Div
1960-64
San Diego
CA
Freese, Bill
CDR
XO VT(N)91
1945
Freichels,R.L.(Bob)
C R Div.
1958-60
Fuller, Jay
(AMM3)
V-2 Div.
1943-45
Jenkintown
PA
Fullerton, Frank E.
CAPT
VA-93
July 26, 1968
Jonesboro
GA
G
Galante, Leonard
1968-71
Bethleham
PA.
Galloway, Bill
1944-46
Spokane
WA
Garner, Charles
V-3 Div.
1944-45
Elmira
NY
Gary, Bob
K-1 Div.
1944-46
Memphis
TN
Garrison, C. D.
1945
Geiszl, Carl
CDR
Asst. Air Officer
1955-58
Giaccaglini, Phil
VA-923
1951
Memphis
TN
Giannone, Vincenzo
1950-52
Springfield
IL
Giesel, Carl
Asst. Air Officer
Gill, Cecil B.
CAPT
C.O
1951-52
Gilmore, Charles "Gil"
E-E Div.
1951-53
Gladiuex,Jerry
V-6 Div
1954-55
Center Line
MI
Glospie, George
EB Division
Glugla,James P.
V-4-O Div.
1944-45
Goesch, Theodore W.
WW 11
W.Athens
NY
Golab, Adam
(AMM3)
VT(N)91
1945
Amsterdam
NY
Goodhart, Don
VT(N)91
1945
Sarasota
FL
Goodloe, William
CAG 7
1945
Goodrich, Robert
1944-46
Goralski, Normand R.
V-1-A Div.
1944-45
Holiday
FL
Gordon, Billy
S-1 Div.
1960-63
Ottoawa
KS
Graham, R.I.
VA-75
1952
Grams, Jerry
Marine& CarDiv 7
1955-57
Granite, Bryant
(AO2)
VF-783
1951
Costa Mesa
CA
Grant, Edward L.
AD3
VF-211 Division
1955-59
Gratz, Jack JR.
F-Div.
1944-46
Sinking Spring
PA
Grattaroti,Ken
E-E Div.
1956-58
Ridgecrest
CA
Graves, Richard C.
ENS.
VA-215
May 25,1967
Sunderland
MA
Greco, James
RD3
OI Div
1955-57
Benicia
CA
Green, Gerald
LTJG
VF-191
Sept.12,1965
FT. Morgan
CO
Greer, David
AB
V-4 Div.
1960-62
Crystal City
MO
Grey, Robert
(SN)
E-b & G3 Div's
1960-64
Decatur
GA
Gribben, Richard
VF-783
1951
Gribble, Frank
unknown
Griffen, Bill
E-E Div.
1944-46
Griffin, John
OE Div. ( Officer)
1959-61
Grants Pass
OR
Grissom, Joseph
VF-783
1951
Grissom, Wendell
Air Dept (YN)
1944-46
Taylorsville
MS
Grohwin, Roman
Marine& CarDiv 7
1952
Groll, Richard
RM2
OR Div.
1955-56
Los Angeles
CA
Gruenewald, Royce
VA 923
1951
Morrow
GA
Guenther,Mike
VA-94
1968-70
Gulick, Harry
5th Div.
1951-52
Brookings
ORE
Gundert, Leonard
(LT)
VF-874
1951
Gunn, Max
(ACOM)
V-5 Div.( Gunner)
1951
Gustafson, Ken
(AG1)
OA Div.
1950-52
Granada Hills
CA
Guthrie, Charles
(PFC)
Marines
1944-46
Birmingham
AL
Gutierruz,Julio
unknown
Guy, D.L.
V-1 Div.
1944-45
H
Habig, Charles
N-Div
1944-45
Hack, Herbert
Flt. Deck Chief
1976
Haines, Harry
VAP-61
1961
Monmouth
ME
Hall, A.T.
E-M Div.
1944-45
Hall, Bertrum J.
Force 77
1951-1952
Hall, Charles
1957-59
Hall, Robert
PRTRM3
K-3 Div
1944-46
Tucson
AZ
Halliday,James
Gunnery Officer
1955
Hamblem, Bob "Sparkplug"
1951-53
Hammers, Jack
V-1-O Div.
1944-46
Hammond, Harvey
Band
1944-45
Hammons, Howard G.
LT
HC-1
July 10, 1968
Hampton, Raymond
(RD3)
O-I Div.
1951-53
Bettendorf
IA
Hand, Ronald
E-M Div.
1956-59
Hansen, R.E.
VF-74
1952
Hardage, Owen
Captain
X-Admin Div.
1970-71
N.Charleston
SC
Hardman, H(Herb)
LTJG
EE Div.
1967-1970
Harnish, William
VA-75
1952
Harper, James
V-1-O Div.
1944-46
Harrell, Richard
(BM3)
3rd Div.
1955-57
Ponchatoua
LA
Harrison, Kenneth
(MM3)
E-M Div.
1950-52
Yuma
AZ
Hartley, Jack
VA-923
1951
Hartman, John W.
V-1-O Div.
1944-45
West Hempstead
NY
Hartmann, Roy E.
VA-923
1943-45
Pacific
MO
Harwood, Charles
E-E Div.
1950-53
Haston, Bob
(SF2)
E-R Div.
1955-59
Mooresville
NC
Hayes, Richard B.
(AO2)
V-5 Div.
1955-57
San Jose
CA
Hays, James
(BT2)
E-B Div.
1950-52
Powder Springs
GA
Hays, Lynn
1951
Headly, Richard
VF-53
1968
Sarasota
FL
Hegstad,Sonny
CPO
E-A Div
unknown
Heikkila, Ernie
V-1 Div.
1962-66
Muskegon
MI
Heinish, Kenneth
K-2 Div.
1944-6
Virden
IL
Hejka, Wayne A.
RM3
CR Div.
Salem
IL
Held, Arthur
V-3-FR Div.
1944-45
Heller, David
(SK3)
S 1 Div.
1955-56
Milo
IA
Hemphill, Dennis
OA Div.
1958-59
Hot Springs
AK
Henderson, Don
VT(N)91
1945
Henry, John T.
1944-45
Herrick, Ralph
VF(N)91
1945
Herrle, Carl
MM1
E-M Div
1944-46
Crescent
PA
Hess, Ralph
VT(N)91
1945
Hicks, Olan E.
S-2 Div.
1944-46
Huntsville
AL
Hiett, Henry
2nd Div.
1944-45
Sturtevant
WI
Hill, John S.
VF-71
1952
Hires, Gordon
OR Div.
1952-53
Jesup
GA
Hite, John
V-3-L Div.
1944-45
Hobbs, Milton Eugene
E-B Div.
1966
Hobson, Lloyd "Don"
(GM3)
F- Div.
1944-46
Hodgson,Edward
VT(N)91
1945
Hodosi, John
1959-62
unknown
Hoffman, Louis Cain
1960-63
Holliday, Robert
VF-72
1952
Hollingsworth, Dale
EE Div.
1962-64
Tacoma
WA
Holloway, John C.
VF(N)91
1945
Holton, Carl V.
1944
Homann, Larry
AN
V3 Div.
1956-60
Buckeye
WV
Honcharuk, John P.
LT. Cdr
Spokane
WA
Hood, Bobby R.
ER Div.
1955-58
Meridian
ID
Hope, William S.
EA Div.
1955-56
Layton
UT
Horst, David W.
VF(N)52
1945
House, Robert
1944-45
Howard, Donald W.
3rd Div.
1944-45
Howard, John C.
EM2
EE Div.
1950-54
Clarkville
TN
Howie, Lloyd G.
LTJG
VF-53
Hoy, Bill
VF(N) 91
1945
Carrollton
TX
Hudson, Cecil
D Division
1951-1953
Hugers, Edward K.
LT
VT(n)-91
1945
Scottsdale
AZ
Hughes, Jack
ABE1
V-2 Division
1964-1967
Hughes, Gerald L.
1944
Pasadena
MD
Huie, Litchfield
LT
HC-1
February 27, 1967
Warsaw
NC
Humes, Joe A.
CAG 7
1952
Humphrey, Duane
EE Div
1957-60
Garden City
ID
Hunger, Gary
E-B Div.
1955-59
Hunter, Wm. "Bill"
(YN3)
Flag
1944-46
Franklin
NC
Hurnblad, Jack
(CDR)
VC-11
1951
Santa Maria
CA
Hurtt, Robert
VT(N)91
1945
Hustead, W.G.
unknown
Hyde, George
(YNCS)
Capt's Writer
1961-64
Ft. Walton Bch.
FL
I
Icenogle, Dale
3rd-Div.
1952-53
Gerlaw
IL
Insko, Myron
Chaplin
X-Div.
1965-68
Pine Grove
CA
Isenhath, Hollis "Ike"
Pilot
VT(N)91
1945
Isgett, Elwyn
S1 Div.
1955-56
Scranton
SC
Iwanski, James R
MM3
EM Division
June 2, 1968
J
Jack, Andy
1963-65
Santa Clara
CA
Jacobs, Arthur T.
2nd Div.
1966-68
Jacobs, Fred H.
VF-783
1951
Jacobsen,Arnold
unknown
Stratford
CT
Jacott, John
CWO-2
1966
James, Jessie
X- Div.
1950-52
James, Randall
SW-6 Div.
1962-64
Jameson, Harold
(CWO)
E-B & E-M Div's
1956-60
Cedar Rapids
IA
Jamieson, Bill
V-1 Div (Officer)
1944-45
Jarosik, Marion
MM2
1944-1946
Jedlund, Harold
(LCDR)
VT(N)91
1945
Webster
WI
Jensen, Larry
1959-61
Jeffries,George G. Jr.
VF-74
1952
Jennings, Robert
(AB1)
V-2 Div.
1950-53
Windsor
NC
Jennings, William B.
LCDR
VA-75
1952
Pensacola
FL
Johanson, Herbert S.
E-9
1958-59
San Jacinto
CA
Johnson, Duane
V-4 Div.
1957-59
Johnson, Johnny
1944-46
Johnson, Karl
E-5
ER-Div.
1958-62
Cathlamet
WA
Johnson, Raymond W.
ER-Div.
1944-46
Sun City
AZ
Johnston, Alvey
VT(N)91
1945
Jones, Harlon
Darien
WI
Jones, Robert
V-3-FL & 1st Div's
1944-46
Jordoin, Robert
(MM1)
unknown
Joss, Herbert
S1
K2 Division
1944-1946
K
Kaiser, Dean
CDR
VF-53
Kale, Ray
Flight Deck
1944-46
Charlotte
NC
Kamm, Phillip
(LCDR)
E-A Div
1955-57
Karger, Barry E.
LTJG
VA-93
May 14, 1968
Prather
CA
Karesch, Leon (Stinky)
1951-1953
Prescott
WI
Karnitz, Milton
SN
V-4-G
1944-45
Fruitport
MI
Kasel, Bruce
AD3
VA293
1950-53
Royersford
PA
Kasselman, Leonard
(LTjg)
VT(N)91
1945
Ellinwood
KS
Kaufman, Sam
S1/C
S Div.
1944-46
Coconut Creek
FL
Kearns, James J.
LCDR
VA-196
Sept 141965
Kearns, Bill
(S1/c)
K-2 Div.
1944-46
Towson
MD
Kearns, William E.
VF-781
1951
Keener, Dwight
YN3
Gunnery
1944-46
Wallingford
PA
Kees, Jim
K-1 Div.
1944-46
Keiling, "Rudder"
CAPT
VF(N)91
1945
Keith, William
VA-75
1952
Kelly, Eugene J.
1945
Kelly, Milton
V-1 Div
1951-52
Madison
IA
Kerlick, Al
K-1 Div.
1944-45
Kerr, John
1944
Kesgen, Edward
LTJG
VA-94
1968-69
Sylva
NC
Kesting, Duane
(BMSN)
Forward Deck
1951-53
Keyes, Judson "88"
(ENS)
VT(N)91
1945
Jefferson
NC
Kieffer, Vincent C.
unknown
Omaha
NE
Kilgour, Jim
1945
Kilker, James
(AMM2)
VT(N)91
1944-46
Iselin
NJ
Kindred, Leonard P. JR
FT3
1957-1960
King, John
V-6 Div.
1967
Klamath Falls
OR
King, Richard
SH3
S-3 Div.
1944-45
Orlando
FL
Kirby, Shelby
1951-53
unknown
Kirchgessner, Norbert
E-R Div.
1944-46
Kirk, Tom
VF(N)91
1945
Kirklighter, James S.
CAPT
Vietnam
Kalaheo
HI
Kirkman, Tom
3rd Div.
1951-52
Kizzah, Carl
AK-3
S-6 Div.
1966-67
Tuscaloosa
AL
Klay, Harry D.
1952
Knapp, Snapper "Don"
VF(N)91
1945
Koday, Edward
(EM3)
E-E Div.
1944-45
Valparaso
IN
Kostun, William J.
1962-66
Endicott
NY
Kreig, William F.
E-B Div.
1950-53
Kriz,Leland C.
(QM3)
1944-46
Sun City
AZ
Kuryllo, Matthew
VA-195
1959-61
L
LaCamp, Edward J.
1944-45
LaCosta, William J.
G- Div.
1959-63
Lakin,Arden
Marine & CarDiv 7
1951-53
Lages, Cesar
X Div
1944-46
Little Egg Harbor
NJ
Lamb, Jim
MM3
EM Div
1955
Missoula
MT
Lamb, M.R.
unknown
Lamendola, Frank
R-1 Div.
1944-45
Landry, Burns "Red"
(GM3)
5th Div.
1950-52
Sulphur
LA
Langlois, Kenneth
unknown
Languell, Chester
unknown
Lansley, Vince
Air Dept
1944-46
Lavers,Dawes C.
(FN)
1944-46
Lavigne, Larry
V-1-H Div.
1944-45
LeBlanc. Joseph
LTJG
1967-1970
Ledford, Horace B.
GM3
WW Division
1950-1954
Leonard, William
1945
Letchworth, Edward N.
LTJG
HC-1
February 27, 1967
Libby
MT
Levia, Frank
(RM2)
1969-71
Lewis, Ed
(CDR)
Supply Officer
1944-45
Lewis, Robert
Officer
Air Boss
1967-69
Virginia Bch
VA
Lindell, Larry A.
AMS3
VAW11
May 6, 1967
Arcadia
NE
Lindell, Jack
unknown
Lindsey, A.K.
1944-46
Kernesville
NC
Lindsey, Franklin
(MMC)
E-A Div
1960-64
San Diego
CA
Litsinger,William
4th Div.
1944-46
Brandon
FL
Lively, Boyce
(ABF3)
V-4 Div.
1968-71
Newberry
SC
Loen, Ed
(EN1)
E-A Div
1951
Virginia Bch
VA
Lofty, Edward J.
1944-46
Long,Francis J.
(LCDR)
OA Div.
1950-52
Atlanta
GA
Long, Robert
1944-45
Long, Wayne
AB
V-1 Div.
1957-59
Hildebran
NC
Loudon, Hugh M
V-3-FR Div.
1944-45
Luc, Frank L.
BTC
EB Division
1967
San Diego
CA
Ludwig, Ken
VF(N) 91
1945
Luehrs,Richard E.
CAG 7
1952
Lukowski, Mathew M.
MM3
SV6 Division
1944-1946
Lynch, Alfred
V-1 & V-3 Div's
1951-53
Lynch, William
1944-45
M
MacPhail, Bob
VF-781
1951-52
San Diego
CA
Magee,Thomas
Mar Det
1944-1946
Maguire, Ernest
(LT)
VA-923
1951
Majette, Joseph
944
Malec, Charles
(QMC)
N- Div
1955-59
Malone, Joshua
1944-46
Mang, Louis C.
(ARM3)
V-3 Div.
1944-46
Kenmore
NY
Mansfield, Jerry D.
1950-53
unknown
Maples, Frank
V-3-FR Div.
1945
Marrow, Cecil
K-1 Div.
1944-46
Marslya, Dick
1968
Maser, Richard
(S1/c)
V-1-D Div.
1944-46
Wauchula
FL
Mathes, Albert
H-Div. (Pharmacy)
1944-46
Cincinnatti
OH
Mathews, Michael
S1-K2 Division
1944-1946
Mathis, Robert
unknown
Maxey, Lee Roy
(FN)
E-M Div.
1951-53
St. Louis
MO.
May, Harry D
3rd Div.
1944-45
Wadesboro
NC
Mazac, Jerry
VF 783
1951
Sealy
TX
McCabe, Walter L.
(GMG2)
5th Div.
1969-70
Yermo
CA
McCaffery,John
Aviation Supply
1944-46
McCampbell, David
CAPT
C.O.
1959-60
Bessemer
AL
McCary, Jim
(ADE3)
VF-783
1951
Montgomery
AL
McClaflin, Neil
1963-65
Los Angeles
CA
McDaniel, Bob
AM 1
V-4 Div.
1951-52
Tulsa
OK
McIntyre, Robert
AMM2
VT (N) 91
1945
Doylestown
PA
McKenzie, Robert
VF-74
1952
McGee, Richard
QMCM
N-Div
1970-71
Carson
CA
McGonigle, Chester
BT3
EB Div.
1957-58
Tucson
AZ
McGriff, Lee "Pete"
Night Fighter Pilot
1944-45
McLin, Robert
R-3 Div
1945-46
McMasters, Ronald D.
LCDR
VA-923
1951
Riverside
CA
McNeil, Burt W.
1944-1946
McNeil, Duane
IC3
1955-56
Spokane
WA
McQuilkin,Bill
VF-73
1952
Mears, Robert L.
K-3 & 4th Div.'s
1944-46
Rocky Mt.
NC
Meek, Ron
RM2
CR Division
1965-1968
Melcher, Eugene
VA-923
1951
Melton, Joe
(PFC)
Marine
1957-58
Mercure, Ray
S1-K2 Division
1944-1946
Merkle, Charles E.
E-E Div.
1950-53
Mero, William H.
LTJG
Air Group Squadrons
Messner, Jim
CDR
VF-74
1952
Americus
GA
Metzger, Bob
1944-45
Miles, Eldon E.
Ft. Myers
FL
Milholland, Texas A.
1943-45
Miller, Charles
(IC3)
E-E Div.
1952-53
Easley
SC
Miller, Dave
ComCarDiv 3
1959
Miller, Jack L.
BT2
EB Div
1961-65
Gas City
IN
Miller, James
OA Div
1951-52
Atlanta
GA
Miller, Jerry
1/C
V-1 Div
1944-46
Rock Island
IL
Mills, Marvin Leo
unknown
Mills, William J.
SK 2
1944-46
Mineral Point
WI
Mims, John T.
V-1 Div.
1943-45
Minnich, Richard
1944-46
Mirante, Ron
V-2 Div.
1945-46
Utica
NY
Mitchell, C.K.
CDR
EE Div.
1967-69
Mitchell, James W.
(AEM2)
5th Div.
1944-45
Wayne
MI
Mitchell, Joseph J.
1966-70
Plattsburgh
NY
Mitchell, Kenneth L.
1951-52
Mixer, Hubert
K-2 Div.
1944-45
Mokry, Leslie
Captain
VT (N) 91
1945
Lebanon
OH
Molamphy, Edwrd R.
S1/c
V-6 Div
1944-46
Balsam Lake
WI
Moore, Carl R.
(BT3)
E-B Div.
1957-60
Shelby
OH
Moore, Glen
VF-72
1952
Moore, John Wayne
1958-62
Moore, Tony
Moorer, Thomas H.
ADM
CNO
1967
Bethesda
MD
Moreine, Clint
1944-1946
Morgan, George W.
G Div
1968-70
Poulsbo
WA
Moritz, Fred
V-2 & V-6 Div's
1944-45
Morris, David L.
FA-EA Division
1970
Morris, Charles D.
1963-65
AZ
Morrison, George "Steve"
Rear Admiral
Comanding Officer
1963
Coronado
CA
Mullen, John H.
HM1
VF-191
1960-63
Solana Beach
CA
Murphy, John S.
(LT)
H- Div.
1955-57
Beaufort
SC
Murphy, Paul
AT2
VC-12
1952
Stonington
CT
Murphy, Russell
E-B Div.
1951-53
Decatur
Il
Murphy, Tom
(SN)
H-Div.
1963-64
Santa Barbara
CA
Myers, Donald
VA-144
1969-70
Middletown
NJ
Myers, Keith
Pilot
VF-16
1945
N
Nease, Wm. Everett
1944
Neill, Doug
VF(N)91
1944-45
Nelson, Leonard M.
LCDR
OP Div.
1966-67
Valrico
FL
Nelson, Robert E.
Flag
1951-52
Nelson, Richard K.
AO2
VA-75
1951-52
Burlington
VT
Newby, Richard
VF-51
unknown
Newland, Rick
ABF3
V4 Division
1967-70
Newman, Stephen
E-4
V2 Division
1965-69
Union
NJ
Nichols, Orville Ray
1957-59
Nickenig, Charles
LT
K-2 Div.
1944-46
Rowayton
CT
Nickolas, George
(ADJ2)
VFP-63
1965-67
Pittsburg
PA
Norris, William
1944-45
Norris, William
(RM1)
K-1 Div.
1944-45
Southhold
NY
Nostitz, Herman
1st Div.
1944-46
Nutt, Jimmie Lee
E-R Div.
1955-59
O
Obremski, Daniel J.
1944-46
O'Brien, John G. Jr.
S1 Division
1944-1946
Ochoxner, Duane
VF-783
1951
O'Connell, Robert
VC-33
1952
Ogle, Paul
VC-4
1952
Ogilvie, Robert
1944-46
Olander, John Chas.
F- Div.
1957-59
Olfyar, John
1944-46
Oliger, Leland
1952
Collierville
TN
O'Leary, Charles
Marine
1944-45
Olszanecki, John L.
AZ3
VA-195
1965-1966
Ellenville
NY
Osborn, Geoffery H.
LTJG
VF-194
September 24, 1965
Winter Park
FL
Osborn, Cliff
Vietnam
O'Sullivan, John J.
VA-923
1951
Osvatics, Bill
(ABM2)
V-2 Div.
1950-52
Mahomet
IL
Oveland, Collin
LCDR
VF781
1951
San Diego
CA
Ovre, Les
(AO1)
V-3 Div.
1951-52
Vacaville
CA
Overton, Chas. Dean
C R Div.
1958-60
Owen, John
(AB3)
V-1 Div
1950-52
Shoreline
WA
P
Page, Howard
VF(N)52
1945
Painter, Calvin
VT(N)91
1945
Pamanian, Macario C.
ADJ2
VA-195
1961-64
Milpitas
CA
Panazzolo, Nelson
AO2
VA-75
1952
Staten Island
NY
Parish, Wm. (Bill)
GM3
4th Div.
1950-53
McRory
AR
Partain, James
AB2
1966-1956
Patterson, James V.
V-2 Div.
1955-58
Patterson, Raymond
FN
E-E Div.
1966-68
St. Albans
NY
Patton, Millard I.
S 1/c
F-Div.
1944-45
Paul, Donald
Marine
1951-53
Payne, H.C.
IC2
1957-60
Newbury Park
CA
Payne, Newton
Engineering
1956
Alliance
NE
Pelucca, Pete
E-E Div.
1951
Pequin, Ken
1957
Vesta
MN
Perosa, Joe
(PNSN)
X- Div.
1965-66
Manhatten
IL
Perry, James
DC3
E-R Div.
1956-59
SC
Peterman, Walt
VT(N)91
1945
Peters, Richard
1952-53
Peterson, Armond
V-6 Division
1943-1945
Peterson, Arthur D.
ADJ3
HC-1
July 10, 1968
Peterson, R.A.
V-1 Div
1951-53
Petosa, Thomas
1961-64
Edmonds
WA
Petrites,William
CM & SF Div's.
1944-46
Petzold, Herbert
CWO3
ER Div.
1964
Northridge
CA
Philbrick, Herbert
RD3
V3FR
1944-45
South Berwick
ME
Phillips, Tommy K.
(GM3)
5th Div.
1950-52
Keytesville
MO
Pierce, Robert
1st Div.
1958-60
Pierroz, Hank
GM3
4th Div.
1944-45
Cool
CA
Pierson, Jim
(EM2)
E-E Div.
1956-59
Pinge, Frank
(E-4)
S-2 Div. (Barber)
1945-46
Sebastian
FL
Pirie, George
V-2 Div.
1944-46
Polsen, Earl
(PHC)
OP Div
1951
Salt Lake City
UT
Pope, Peter
VF-74
1952-53
Chillicothe
MO
Poplin, Max K.
S-3 Div.
1951-53
Porter, Ronald
RD3
OI Division
1961-1964
Prather, Bobby
CAG 102
1951
Price, Robert
1945
Prout, Jeffery
S-2 Div.
1961-62
Pulliam, Franklin
SN
S-3
1959-61
Deming
NM
Puryear, Charles
E-E Div.
1951-53
Lexington
SC
Q
R
Rafuse, Calvin E.
VF(N) 91
1945
Laurel Hollow
NY
Ragil, Anthony F.
AA
V-4 Division
February 7, 1968
Rakas, Michael
OA Div.
1951-53
Raper, Thomas F.
AN
V-1 Div.
1963-66
Cincinnati
OH
Ravinsky, Edward
1944-45
Rawhoof, Gene
Air Dept.
1944-45
Zion
IL
Ray, Charles
CAPT
Exec. Officer
1965-66
Bay St. Louis
MS
Redmond, Donald M.
(BM1)
1961-68
Reed, Lew
1951
Rees, Merritt
1944-45
Omaha
NE
Reese, Bill
(GM3)
4th Div.
1950-53
Reiss X.X.
(FC3)
F- Div.
1944
Ressetar, John J.
1952
Reynolds,Jr. John
S1/c
4th Div.
1944-46
Mobile
AL
Richardson, Arthur
1944-46
Riedenour, Quinton
(BT3)
E-B Div.
1951-53
Fenton
MO
Riley, Richard
VT(N)52
1945
Riner, James
(CDR)
VF-73
1952
Rivers, Wendell
CAPTAIN
V-1 Division
1962-64
Seward
NE
Rivett, Bill
MM3
EA Division
1963-1966
Rizen,
1944-1946
Roberts, Greald Ray
LCDR
VA-196
Dec. 2, 1965
San Marcos
TX
Robson, Fred
VF-72
1952
Arvada
CO
Rodriquez, Richard
(BM3)
Sgt-At-Arms
1944-46
Roettering, Marvin
(DC3)
E-R Div.
1957-61
Washington
MO
Rogers, Bernard
1962-65
Rogers, Bernard
1960-63
unknown
Rogers, Gene
1955-56
Romness, John
V-4 Div.
1950-53
Ross, Russell L.
V-4 Div.
1958-62
Iola
KS
Roy, William
EE Div.
1944-45
Ambler
PA
Rozumalski,Pete
VF-71
1952
Rude, Kenneth C.
S 1
2nd Div.
1944-45
Newton
NJ
Rudy, Joe
FN
E-A Div
1945
Syracuse
NY
Ruiz, Kenneth
Captain
C. O.
1967-68
Henderson
NV
Russell, Kay
LCDR
VF-211
1967
Russell, John
F- Div.
1944-46
Russell, Joseph
1944-46
Rutledge, Howard
Captain
VF-24
1965
San Diego
CA
Ryan, Martin
V-4-F Div.
1944-45
Ryan, Raymond
(CPL)
Marine
1955-57
Prineville
ORE
Rybaski, Dan
V-1 Div.
1950-51
S
Sage, Leland C.
LTJG
VA-144
June 23, 1969
Waukegan
IL
Sanders, Robert
CDR
V-1 Div.
1944-45
Sandoval, Rudy
V-2 Div.
1966-69
Rio Rancho
NM
Sanford, Mike
RM3
OR Div.
1957-59
Owasso
OK
Sanger, Seymore
Ships Band
1944-46
Arlington
VA
Sause, Bernard J.
AN
HC-1
February 27, 1967
Baltimore
MD
Savage, James
(LT)
VA-923
1951
Scarbrough, Bill
V-4 Div.
1950-53
Schilleroff, John
VT(N)91
1945
Schmidt, Phillip
1955-57
Pittston
PA
Schneider, Danny
PFC
MAR-Det
1969-70
Saginaw
MI
Schneider, Robert
Ensign
VF(N) -91
1945
Schrader, Vern
BT2
E-B Div.
1958-60
Wilmington
NC
Schultheis, R.R.
VA-923
1951
Schultz, Robert F.
E-A Div
1965-67
Kenova
WV
Schulze, John
1965-67
Schumacher, Ernest A.
AKMC
S-6 Div.
1969-71
Lodi
WI
Scott Jr.,James J
St Louis
MO
Scott, Charles
1944-45
Scott, Harry
V-1-H Div.
1945
Scriven,William H.
ABM3
V-1-R Div.
1944-45
Scroggins, Noble
AOM1
V-4 Div.
1944-46
Heath
OH
Seabolt, Lawrence
unknown
Seaman, Frank
AT2
VA-192
1961-62
Sell, Robert M.
EM3
EE Div.
1951-52
Hobe Sound
FL
Selway, Gil
LTjg
VF(N)91
1945
Sevey, Charles
IC2
E-E Div.
1957-60
Chewelah
WA
Sewell, Charles
CAG 7
1952
Sgro, Ralph
ABE3
V2 Division
1967-1970
Shaw, Federick
LCDR
OP Division
1966-1968
Chula Vista
CA
Shealy, Cliff
AOM2
VT(N)91
1945
Napa
CA
Shepherd, Les
AB2
V-1 Div.
1951-53
Anaheim
CA
Sheppard, Walter
SN
S-2 Div
1944-46
Danbury
CT
Shuky, William O.
1944-46
Shull, Grady L.
V-6 Div.
1963-65
Sicola, Tony
3rd. Class
S-2 Div.
1944-46
Huston
TX
Siggeman, Franklin
unknown
Sigler, Edward
1955-57
Signorelli, M.J.
VF-71
1952
Sills, Dick
VF-71
1952
Simon, James
YN3
X- Div.
1955-57
Wayne
NJ
Simpson, Larry
AB3
V-1 Div
1952-53
Homosassa
FL
Simpson, Waymon
unknown
Skehan, Richard
(AG3)
Operations
1951-52
Skowronek, John
1944
St. Paul
MN
Smalley, Theron
unknown
Smiley, George
VF(N)52
1944
Smith, Art
V-3-L Div
1944-46
Smith, Charles
ETR3
O-E Div
1965-66
Roy
UT
Smith, Don
K-1 Div.
1944-45
Pasadena
TX
Smith, Donnie
MM3
E-A Div.
1963-66
Lake
MI
Smith, Dean
LTJG
VF-24
March 15, 1967
Savannah
GA
Smith, Eric S.
Signalman
1968-1970
Smith, Homer
CDR
VA-212
1967
Viet Nam
Smith, Irving
S-1 Div.
1955-57
Palm Harbor
FL
Smith, Kenneth
1960-62
Smith, Roger L.
V-1 Div.
1963-64
Smith, William
Officer
X Division
1964-1966
Snipes, J.O.
VF-71
1952
Snyder, Bill
1945
Snyder, Jay
Sr.CPO
S- Div
1961-63
San Diego
CA
Sobolweski, Dan J.
V-3L Div
1944-46
Baltimore
MD
Sohweid, Henry
Pilot
VF(N)91
1945
Sorenson, Loren "Buck"
LT
W-G Div
1968-69
Stanton
CA
Spainhouer, Freddie
PTCM
OA Div
1951-52
Dallas
TX
Sparling, Elwin (Al)
VF(N) 91
1945
Cranston
RI
Speidel, Bill
VA-75
1952
Memphis
TN
Spicer, James
RM/SN
CR Division
1967-1969
Sprinkle, Lowell
VF(N) 91
1944-45
Council Bluffs
IA
St.Onge, Erwin F.
V-1-F Div.
1951-53
Greenfield
WI
Stacy, Wm.Barnett
RD3
E-R Div.
1961-65
Stafford,Daniel H.
MM3
SV-6 Division
1944-46
Stames, W.A. (Bill)
CDR
VF781
1951
Coronada
CA
Stamy, Don
VT(N)91
1945
Stankiewicz, Daniel
MM3
E-A Div
1955-57
Milwaukee
WI
Stelly, Perry
E-A Div
1955-57
Abbeyville
LA
Stephens, Ronald
VA-192
1962-66
Granada Hills
CA
Stevens, Herbert E.
AT1
VC-35
1946 & 1951
Stewart, Edwin M. Jr.
LCDR
HC-1
July 10, 1968
Stichler, Dwight
4th Div.
1950-53
Stiles, James
SM2
K2 Division
1944-1946
Stockhill, Robert
IC3
E-E Div.
1955-58
FL
Stokes, Jack
1950-53
Pontotoc
MS
Stone, Henry
Flagman
1944-1947
Stone, Casper
4th Div.
1944-46
Strachan, Eugene
BM1
G-3 Div.
1957-61
Straughan, James
EM3
E-E Div.
1950-53
Metairie
LA
Stribe, Dan
1959-61
Lanesville
IN
Suedkamp, Bill
ADJ2
VF-191
1963-65
St. Louis
MO
Suligowski, Leonard
VC-11
1951
Brooklyn
NY
Sullivan, Tom
CYN3
CR Div.
1968-69
Las Vegas
NV
Sundermeier, Bill
V-4 Div.
1957-59
Sutton, M.T.
1968-69
Lemore
CA
Sweeney, Mike
X-Div.
1962-64
Flagstaff
AZ
Swords, Phillip
VT(N)91
1945
T
Talmadge, James T.
V-? Div.
1955-58
Tanner, Ollie Garland
FN
1944-45
Tate, Sterling L.
AT2
VF-193
1958-59
York
PA
Tageson, Terry
AO 1
VA-195
1960-61
Milwaukee
WI
Taylor, Bob J.
K-1 Div
1944-45
Los Angeles
CA
Taylor, Karl W.
S2/C
3rd Div
1945-46
Toccoa
GA
Taylor, Niel B.
LTJG
VF-192
Sept. 14, 1965
Tangeley
ME
Taylor, Wilson
3rd Div.
1944-46
Tegeler, Henry W.
VA-923
1951
Tetsold, Herb
CWO
1964-65
Thomas O.C.
E-R Div.
1944-46
Thomas, Howard J.
V-3-FR Div.
1944-45
Thomas, Richard S.
Captain
VA-212
1967-68
San Antonio
TX
Thomason, Ronald D.
AA
V-1 Div.
January 31, 1967
Thompson, Bobby Joe
DM3
1951-1953
Thompson, Ralph
ABAN
V2 Division
1966-1967
Thompson, Ronald D.
ABHAA
V1 Division
Thompson, Al J.
VF-72
1952
Thompson, Billy
5th Div.
1950-53
Thrape , Robert
5th Div.
1950-53
Tinari, Louis J.
1944-45
San Rafael
CA
Tolan, Jim
1965-69
Tolin, William
ABE1
V-1 Div
1958-59
Spanaway
WA
Toloudis, Nick
GM3
5th Div
1950-53
Victoria
TX
Tomaszewski, Arthur F.
V-1-D Div.
1944-46
Toms, Dennis
AA
VA-192 Division
1962-1965
Tooker
Marck L Jr.
AT1
Trahan, John (Dale)
VA-196
1961
Triggs, George M.
1958-61
Tritt, James E.
MM2
EB Division
July 8, 1967
Monaca
PA
Trojovsky, Art
ENS
VT(N)91
1945
Hiawatha
KS
Truett, Lavaugn
E-B Div.
1951-53
Tucker, Edwin B
LCDR
VA-24
Apr. 24, 1967
Baldwinville
MA
Turley, Joe
1945-46
Houston
TX
Turner, Frank
1945
Turner, Jim
E-E Div.
1961-67
Verona
MS
Turner, Ron
V-2 Div.
1965-66
Twigg, Murl E.
1944-45
U
Uhlhorn, Leon
E-A Div
1965-67
Ukleja,Edmund
unknown
V
Valentine,Richard A.
3rd, F & X Div's.
1944-46
Valis, Donald
(AMM3)
V-1-A Div.
1944
Flagtown
NJ
Vandergriff, Robert
O-I & O-C Div's
1959-62
Hixon
TN
VanGieson, Wm. P.
unknown
VanGundy, Bryson
(CDR)
VAH-4
1961
Sterling
CO
Varner, William
1962-65
Big Sandy
TX
Vaughan, Steve
VA76
1967
Denton
NC
Venning, Dale
Marine
1944-45
Verhoef, William, JR
EM2
E-E Div.
1961-65
Otley
IA
Vick, Ray
X- Div.
1962-66
W
Wadman, William, III
O-I Div
1955-56
Lake Oswego
OR
Waeltz, Gus
VA-923
1951
Morton
IL
Wadowiec, Philip
1945-46
Waggoner, Arthur D.
CD1
1951-1953
Walker, J.C. "Bugs"
5th Div.
1950-53
Walker, James B.
VF-783
1951
Walker, Norm
V-1-O Div.
1944-46
Council Bluffs
IA
Walker, Robert
ER Div.
1950-52
Arlington
IA
Walsh, Freddie
1950-54
Wampler, Bill
VF-781
1951
San Diego
CA
Warmkessel, Bruce
E-M Div.
1952
Warren, Jack V.
1950-51
Watson, Robert
V-2 Div.
1944-46
Wehn, George
1968-69
Weidig, Donald
CDR
Engineering
1963-64
Lake City
FL
Weiding, Donald
CDR
Eng. Officer
1963-64
Lake City
FL
Weimer, Clarence
E-B Div
1950-54
Fredericksburg
VA
Weimer, Earl
BT3
E-B Div
1950-53
Spotsylvania
VA
Weldon, John A.
SMC
1944-1946
Wendt, Norman
1944-45
Westbrook, William
3rd Div.
1944-46
Whalin, Billy
Marine
1950-53
Wheeler, Paul E.
5th Div.
1950-53
Albany
TX
White, Alton Lamar
(QMC)
OS Div.
1955-58
White, Chester
4th Div.
1944-46
White, John
unknown
White, Maurice
4th Div.
1944-46
White, Paul K.
Whitney, Robert Jas.
E-B Div.
1959-60
Whiteley, Robert Lee
BM1
G-2 Div
1958-64
Bridgeport
CT
Whittemore, Frederick H.
CDR
VA-212
April 11, 1968
Carson City
NV
Whittet,John D.
VC-61
1944 & 51
Wicks, Luther B.
(AMM1)
VC-41 Det. 41
1952-53
Montclair
NJ
Wickstrom, Bill
H- Div.
1944-46
Wilder, Harold
3rd Div.
1944-46
Pontotoc
MS
Wilkins, Bill
V-3 Div.
1950-53
Willard, William
O-I Div.
1955-56
Fairfeild
TX
Willadsen, Ron
GM3
5th- Div.
1951-53
Tumwater
WA
Willhoite, Everett R.
Ships Company
Williams, John C.
MM3
1951-52
Redfield
KS
Williams, Marvin E.
1951-53
Williams, Norm
E-A & V-6 Div's
1955-59
Williams, Wesley
(AMHC)
VF-193
1958-59
Bennington
NE
Williamsen, Darrell G.
EE Div.
1958-60
Decatur
AL
Williamson, John J. Sr.
1951
Wilson, Robert R.
CDR
VA-93
July 10, 1968
Wilson, Robert
1951-53
Wilt, George M.
LT(jg)
R-3 Div.
1944-46
Portland
ORE
Wiltgen
Donald G.
LT
Black Shoe One
1968-1970
Winder, Donald E.
1044-45
Winkleman, William
1944-45
Winters, Jonathan
Mar-Det.
1944-46
Montecito
CA
Withers, George
H- Div.
1944-46
Woelm, Ed
(LT)
VA-923
1951
St. Louis
MO
Wold, F.A."Frank"
(ICC)
E-E Div.
1959-64
Long Beach
CA
Wolden, Bill
V-4 Div.
1959-63
Wolfe, Bill
H- Div.
1956-57
Wolfel, Ken G.
VA-75
1952
Womack, Bill
E-B Div.
1951-53
Rock Hill
SC
Womeldorf,Curt
1944-46
Leesburg
FL
Wood, Rex S.
LCDR
VF-24
June 2, 1967
Moulton
MA
Woods, Carl J.
LCDR
VF-24
Sept 19, 1965
Woods, Thomas
VF(N)91
1945
Worcester, John B.
LCDR
VA-195
Oct. 19, 1965
Big Rapids
MI
Wortham, Cliff
(AOM3)
V-4-O Div.
1944-45
Newman
GA
Wright, Cy
VF(N)52
1945
Wright, Dick
VF-73
1952
Wright, Ken
AQB3
AIMD IM-3
1968-70
Paradise
CA
Wright, Wilbur
XMAA Div.
1962-64
Indianapolis
IN
X
Y
Yates, Joseph
E-R Div.
1955-57
Eldorado-SantaFe
NM
Yenney, Fred
2nd Div.
1944-45
York, Gerald W.
1958-60
Z
Zander, Roy L.
(AMM3)
1944-45
Adamstown
PA
Zeller, Norm
Marine
1957
Zempel, Ronald L.
PRAN
HC-1
February 27, 1967
Grand Rapids
MN
Zewe, Raymond J.
1944-46
Marshalltown
IA
Ziegler, Don R.
VF(N)91
1945
Defiance
OH
Zimmerman, John
VF-781
1951
Pahoa
HI
Dedicated To Those Lost From LHD-6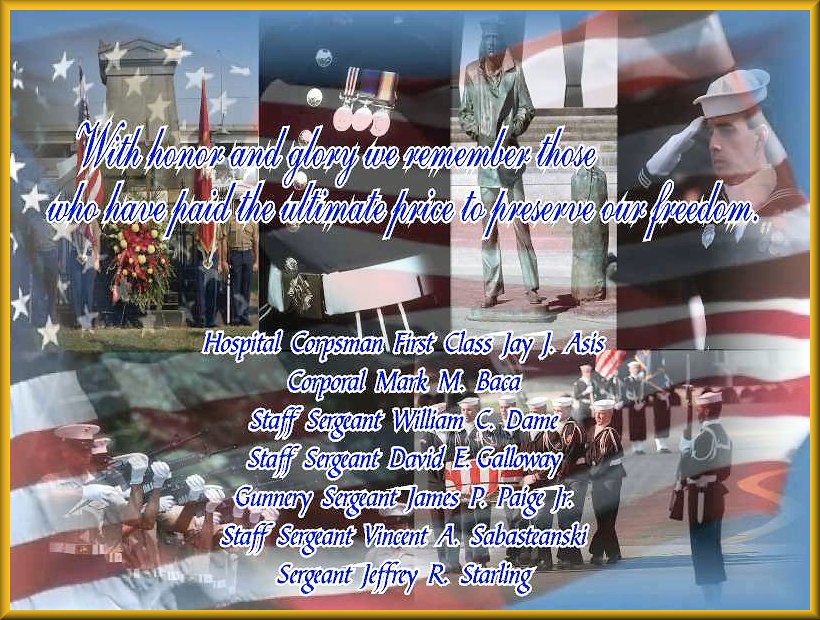 Korean War Casualties
EUGENE DANIEL REDMOND
3 June 1951
LT.
KIA
ARTHUR DIXON
4 July 1951
LTjg.
KIA
JAMES E SAVAGE
6 July 1951
LTjg.
KIA
THOMAS F ALLARD
11 July 1951
LT.
KIA
ORVILLE M. COOK
19 July 1951
LT.
KIA
JAMES J. VENES
11 Aug. 1951
LT.
KIA
FRED L. KOCK
11 Aug. 1951
LTjg.
KIA
WILLIAM H. MERO
4 Sept. 1951
LTjg.
KIA
EVERETT RAY WILLHOITE
2 Oct. 1951
AA
KIA
LEONARD A. GUNDERT
3 Oct. 1951
LT.
KIA
JAMES EDWIN HODGES
AD-1
21 Nov. 1951
KIA
RAYMOND E BUTIN
22 Nov. 1951
FN
Lost At Sea
E.P. CUMMINGS
11 July 1952
LT.
KIA
L. L. TOOKER
11 July 1952
AT-1
KIA
Donald E ADAMS
15 Aug. 1952
ENS.
KIA
HALFORD K. EVANS
5 Dec. 1952
CDR.
VA-75
KIA