- More Bon Homme Trivia -


The Morrison connection- Jim Morrison & The Doors.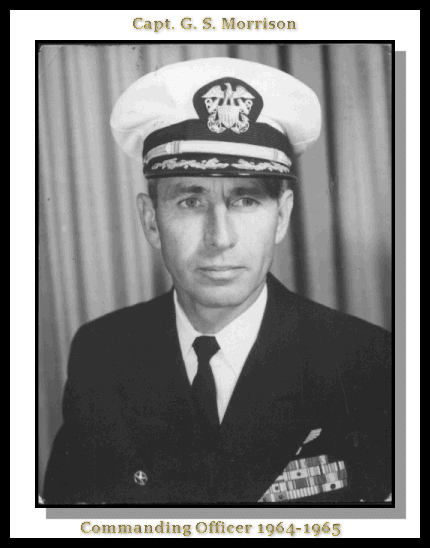 Jim's father RADM George S. Morrison (who was then a Captain) served as the Commanding Officer
Of USS Bon Homme Richard from 23 Nov 63 - 25 Nov 64.
RADM Morrison was Guest Speaker at the BHR de-commissioning ceremony 2 July 1971.
This was the day BEFORE his son Jim passed away in Paris.
Considering the time difference between Bremerton, WA and Paris, France
the two events happened within a few hours of each other.



To View A Photo Of Jim Morrison
With His Father Capt. G. S. Morrison
On BHR's Bridge.
Click Here
Try Crystal Ship I Think It Sort Of Personifies The BHR
A Doors Play List
Click on The Doors Song
You Wish To Hear

BON HOMME TRIVIA
If you visit the USS Yorktown (CVS-10) in Charleston, SC and go down to her keel, you will find a plaque designating the ship as the USS Bon Homme Richard. This was the original keel, but the name was changed to Yorktown after the original was lost at Midway.
THANKS TO Willi Schumacher FOR THE ABOVE CONTRIBUTION.
(2004) The Castaways Casino, 1690 N. Decatur at Vegas Drive, Las Vegas, NV Is Now Called The Alibi Lounge. All The Memorabilia From The BHR Is Now Gone, I'm Sorry To Say.
(1993) GLADSTONES 4 FISH of LA WALK in Universal Studios used tables, chairs, serving carts and bar tops made from the flight deck wood of the BON HOMME.
There is an A4 aircraft on display from the BON HOMME at the Air and Space Museum, Smithsonian Institution, Washington, DC.
Plaque on the Yorktown CV-10 Thanks Bill Zimmer

An Article About The BHR's Last Hurrah In San Pedro, CA
An Article About The BHR's From The Long Beach Press Telegram
In Response To A Letter From Ralph Pound.